U.S.A. -(AmmoLand.com)-  SHOT Business, the official publication of NSSF, the firearm industry trade association, recently published its December 2020 issue. Its most notable feature article, and the first of its kind to appear between the covers of the journal, was its "40 Under 40 Awards," which highlighted 40 people under 40 moving the industry forward in extraordinary ways.
"Today's gun owners—younger, female and more diverse across the board—need people within the firearm industry they can relate to, people who speak their language and with whom they can make the personal connection that is needed to keep them engaged and participating in the shooting sports," said Slaton White, SHOT Business Editor. "Those industry professionals making those connections with today's gun buyers and recreational shooters are, by and large, under 40 years of age, and it's high time they were recognized for their talents and innovations."
More than a few of the nominees work for or with NSSF member companies.
"We are so impressed with what these professionals have accomplished and how they're building bridges with the public we've never had before," said Chris Dolnack, NSSF Senior Vice President and CMO. "That so many of them work for NSSF member companies speaks to the greater strengths of these brands and their willingness to embrace new ways of communicating with the public. It's what our industry needs, and we're very proud to see our members leading the way forward."
Notable "40 Under 40" industry influencers working for or with NSSF member companies include:
Shaundi Campbell — Browning Media & Events Manager
Kevin Conroy — Weatherby, Inc., Ammunition Production Manager and Custom Gun Shop Production Manager
Maria K. Espinosa — RUAG Ammotec Sales Operations Supervisor
Ben Fleming — Bergara Rifles Vice President of Sales
Brett Frey — Lipsey's Vice President, Sales, and Purchasing
Kristen Gooding — 5.11, Inc., Public Relations & Advertising Manager
Ashley Hlebinsky — Cody Firearms Museum Robert W. Woodruff Curator
Erin Hutchison — Danner Boots and LaCrosse Footwear Media Relations Manager
Will James — Defender Outdoors Partner and President
Jessica Keffer — The Sportsman's Shop Marketing Manager
John Linscott — Savage Arms Design Engineer
Brice McCunn — McCunn Specialty Firearms Founder and President
Kyle Masinelli — Olin Winchester Director of New Product Development
Jake Meyer — Mossy Oak Public Relations Manager
Lena Miculek — Team SIG Sauer professional shooter
Justin Morrisey — NSSF Manager of Social Media
Samantha J. Pedder — Council to Advance Hunting and the Shooting Sports Director of Operations
Casey Reed — Federal Ammunition Handgun Product Development Engineer, U.S. Practical Shooting Association Grand Master
Trevor Robinson — Bristlecone Shooting, Training & Retail Center Facility Supervisor
Taylor Schmitz — Congressional Sportsmen's Foundation Federal Relations Manager
T.J. Schwarz — Columbia River Knife and Tool freelance knife designer
Luke Scott — Sporting Systems Manager
Pepper Self — Ducks Unlimited Digital Fundraising Specialist
Cody Sellars — TrueTimber Business Development Manager
Shawn Skipper — Leupold & Stevens, Inc., Media Relations Manager
Jared Sloane — Shoot Smart Operations Director
---
About The National Shooting Sports Foundation
NSSF is the trade association for the firearm industry. Its mission is to promote, protect and preserve hunting and the shooting sports. Formed in 1961, NSSF has a membership of thousands of manufacturers, distributors, firearm retailers, shooting ranges, sportsmen's organizations, and publishers nationwide. For more information, visit nssf.org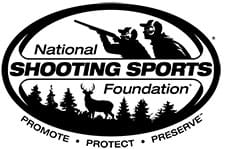 The post NSSF Member Employees Shine in Shot Business '40 Under 40' Listing appeared first on AmmoLand.com.